Download Video From Youtube With KeepVid.com no software is required but java. See the easy step by step tips and tutorial bellow.
1.          Go to YouTube.Com and copy the Video URL you want to download to your computer.
2.        Now navigate to KeepVid.Com and paste the copied YouTube video URL into the box and click Download. Then you will see the screen like the picture bellow.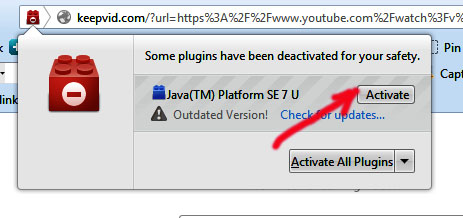 3.        Now click active and you will see another page like the bellow picture.
4.        Check the box and click run and you will get the page bellow.
 5.        Now you will get the options like bellow: See the above picture.
» Download 3GP « – 144p – 2.7 MB
» Download FLV « – 240p – 10.4 MB
» Download FLV « – 360p – 17.7 MB
» Download MP4 « – (Max 480p) – 19.9 MB
» Download WEBM « – 360p – 19.1 MB
» Download MP3 « – using (SnipMP3.com)
 6.       Finally click any option above you want and happy download video from youtube. Enjoy…….